The Occupational Therapy Institute for Driving Assessment and Rehabilitation
About
The ability to drive has great functional and social significance which enables the individual accessibility to various places and to conduct an independent life. Questions as to the driving capability arrive at the door of the family physician by the patient, his family or following traffic regulations that obligate every driver following a change to his medical condition to present a health certificate from the family physician as to his ability to drive.
Patients
Every adult who holds a driving licence who is unsure regarding his driving ability or wishes to reinforce his driving skills
People who have undergone a change in their medical status (neurological, cardiac, orthopaedic etc) who wish an assessment and exercising of the components which have been damaged
Service for external clinics which wish to assess the driving of their clients.
Functional ramifications
The main disorders following orthopaedic injuries: decrease in the range and force of the upper or lower limbs, difficulty in entering or exiting a vehicle and its use when driving.
The main disorders after neurological damage: neurological damage for the most part harms motor, sensory, perceptual and cognitive functions which could, amongst others, harm driving ability.
The main disorders following a cardiac event: decrease in muscular endurance throughout strenuous activity, sometimes cognitive defects are observed after use of oxygen for a prolonged period (harm to managerial functioning, attentiveness, concentration etc).
The main disorders for the elderly driver: prevalence of medical defects, decrease in vision, in cognition, motor confusion and in the somatosensory functions could increase with age and could have a significant effect on driving skills.
Treatments
Assessment including the driving components required for efficient and safe driving (a comprehensive assessment by several paper and pencil, practical and computerized assessments and driving assessment in practice by a certified driving instructor.
Customization of personal therapy regarding the components which have been found to be challenging for the client (cognitive exercises, motor exercises and reinforcement, consultation and modification of accessories in the vehicle etc).
Use of a driving simulator – as part of the intervention program use will be made of a driving simulator that serves for assessment in driving rehabilitation centres nationwide. The simulator is an assessment tool that uses virtual reality of the driving environment, and enables assessment of challenging driving situations in a safe and protected environment.
Arrangement with
Location map

Private car

Bus lines
2, 7, 15, 16, 31, 34, 35, 37, 46, 52, 54, 59, 104, 452, 475, 717

a train
Tel Aviv -"HaHagana" Train Station, within walking distance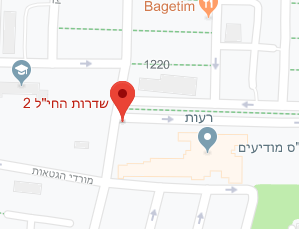 Contact To Reuth Rehabilitation Hospital
Subscribe to the newsletter