Nursing
Yana Berg
Director of Nursing
The Nursing Division at Reuth TLV Rehabilitation Hospital integrates professional and human challenges with top quality work and interpersonal relations for each patient. The Division is moving forward with the times and with medical development, is focussing on innovative treatment methods and aspires to provide its patients with an optimal quality of life, even in difficult situations.
PATIENTS
The Nursing Division, by its very nature, is deployed in all hospitalization wards of the hospital and in the treatment of patients in various and diverse situations:
In the Respiratory Division – patients requiring artificial respiration throughout time.
In the Rehabilitation Division – patients being rehabilitated from serious neurological and/or orthopaedic problems, caused as a result of disease or injury.
In the Geriatric Division – elderly people suffering from a decrease in physical and/or mental functioning due to their age and/or due to various illnesses
In the Young Peoples Ward – relatively young patients, some of whom require invalid nursing, requiring long term hospitalization for various injuries.
In the Paediatric Ward – babies, infants and children suffering from physical and cognitive injuries due to genetic diseases, accidents and other factors.
TREATMENTS
The nursing staff in each division and ward specializes in specific treatments required by their patients, for example: weaning from ventilation, alleviating pain, dialysis, prevention of pressure sores, treatment of wounds, nutrition, washing and dressing and more. In addition the nursing staff accompany the patients in quality of life activities such as musical events and even trips outside of the hospital. They assist the physicians and the para-medical professionals in execution of essential processes and provide every patient with personal treatment, emotional support and devoted and patient daily treatment.
RESEARCH AND ACADEMIC ACTIVITY
The Reuth TLV Rehabilitation Hospital  serves as a clinical field for students from nursing schools, from Tel Aviv University and from various high level courses.
THE STAFF
The nursing staff at the Reuth TLV Rehabilitation Hospital has some 250 employees, of which some 150 are nurses. The staff members are professionals with knowhow, skills and initiative who provide treatment, assistance and support of the highest standard to patients and their families. They work closely with the physicians and with the rest of the health professionals, within the framework of a multi-professional team which is essential for the success of the complex rehabilitation process.
Arrangement with
Location map

Private car

Bus lines
2, 7, 15, 16, 31, 34, 35, 37, 46, 52, 54, 59, 104, 452, 475, 717

a train
Tel Aviv -"HaHagana" Train Station, within walking distance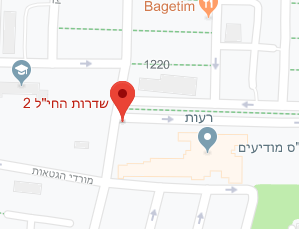 Contact To Reuth Rehabilitation Hospital
Subscribe to the newsletter