Geriatric Rehabilitation Division
Dr. Yekaterina Slutsky
Director of the Geriatric Rehabilitation Division
The objective of the Geriatric Rehabilitation Division at the Reuth TLV Rehabilitation Hospital is to improve the functioning of elderly patients suffering from deterioration in functioning. The rehabilitation treatment acts to return to the elderly requiring rehabilitation their functioning and their independence, as far as possible notwithstanding the physical and mental restrictions. The treatment also includes medical solutions for unique health problems for the elderly – from a tendency for falling and through to sensitive problems and correct control for medications.
Patients
The Geriatric Rehabilitation Division takes care of elderly people who are experiencing a decrease in functioning following an illness or a fall, post surgery, or other conditions. The majority of the patients suffer from various illnesses, including liver and renal diseases, advanced diabetes, cancer, Parkinson's and Alzheimer's.
A person who loses his independence and becomes dependent on his fellow man loses one of the most significant foundations in life. The response to situations of this type affects the elderly not only physically but rather also emotionally and could cause a severe crisis in their lives and the lives of their families. For this reason, the geriatric rehabilitation process has utmost importance and can help patients to participate in improving their physical and emotional condition and cope with the significant change to their life.
Treatments
The geriatric rehabilitation process enables patients to return to optimal physical, social and emotional functioning and by its nature is a holistic and multi-professional process. In the Geriatric Rehabilitation Division physiotherapy, occupational therapy, podiatry (for injuries to the feet) and treatment for communication disorders are provided alongside the services of a social workers and rehabilitation nurse who helps the older person in his daily life. Furthermore, the psychological team conducts diagnostic and assessment meetings with those hospitalized in the division and offers emotional and psychological treatment if required.
Arrangement with
Provides full medical sponsorship for all national Paralympic swimmers
Location map

Private car

Bus lines
2, 7, 15, 16, 31, 34, 35, 37, 46, 52, 54, 59, 104, 452, 475, 717

a train
Tel Aviv -"HaHagana" Train Station, within walking distance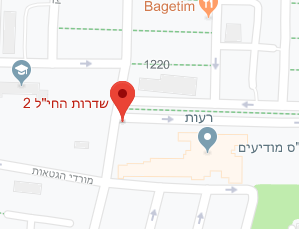 Contact To Reuth Rehabilitation Hospital
Subscribe to the newsletter