Reuth Medical Center in the Community- Ramat Gan
Dr. Anatoly Liebschitz
Director of the Reuth Medical Center in the Community
About
Reuth Medical Center in the community in Ramat Gan  is a branch of Reuth TLV Rehabilitation Hospital in Tel Aviv and offers advanced rehabilitation treatments with high availability as part of hospitalization day rehabilitation, led by the hospital's best experts.
Each patient enjoys a personal program that addresses his medical, functional, psychological and social needs.
*** The treatments are given to the insured of the health funds and the insurance companies – subject to the terms of the policy
Patients
Population in need of geriatric rehabilitation, general rehabilitation and improved function following: prolonged illness, car accidents, stroke and chronic pain.
Contact Us
Address: Rimalt 7 Ramat Gan
Phone: 03-6337076
Arrangement with
Location map

Private car

Bus lines
2, 7, 15, 16, 31, 34, 35, 37, 46, 52, 54, 59, 104, 452, 475, 717

a train
Tel Aviv -"HaHagana" Train Station, within walking distance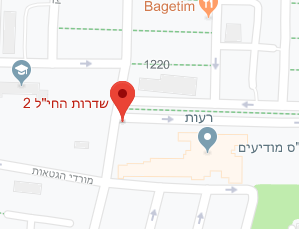 Contact To Reuth Rehabilitation Hospital
Subscribe to the newsletter