The Center for Sexual Health
Prof. Rafi Heruti
Director of the Rehabilitation Division, and Director of The Center for Sexual Health
Sexuality is an inner energy that pushes us to seek out love, warmth, and intimacy. It affects both physical and mental health.
At Reuth's Center for Sexual Health, a multidisciplinary team of experts addresses all aspects of sexual function – physical, emotional, mental, marital, and social.
It is the largest center of its kind in Israel, providing treatment to hundreds of patients every year.
Patients
Individuals and couples of all backgrounds come to the center from all over Israel to improve their sexual health.
Professional response to a wide range of difficulties:
Desire disorders (lack of sexual desire, avoidance of sex, excessive sexual drive, mismatched sex drives in couples, and more)
Arousal disorders (difficulty achieving or maintaining an erection, lubrication disorders)
Orgasm disorders (difficulty achieving an orgasm, premature ejaculation, delayed ejaculation, lack of sexual satisfaction)
Painful intercourse (including disorders such as vaginismus and vestibulodynia)
Sexual paraphilias
Sex addiction
Difficulties establishing intimate relationships
Relationship difficulties that affect sexual function
Sexual incompatibility
Desire to improve the quality of sexual life
Rare sexual disorders such as POIS, PSSD, PGAD
Multidisciplinary Treatment
Diagnosis: Sexological evaluation in order to understand the issue and devise tailored rehabilitation plans.
Personal or couples sexual therapy: Behavioral therapies, treatment for anxiety, sexual rehabilitation after a disability, injury, surgery, or oncological treatment, and more.
Additional treatments: Psychotherapy, pelvic floor physiotherapy, Doppler ultrasound to diagnose physical causes of erectile dysfunction, shockwave therapy for erection issues, and more.
Rehabilitation for individuals with disabilities: The center's staff has extensive experience in providing sexual rehabilitation to individuals suffering from spinal cord, head, and orthopedic injuries, cerebral palsy, PTSD and shell shock, pain disorders, and more.
The center works in cooperation with the Ministry of Defense Rehabilitation Department to provide treatment to IDF soldiers with disabilities.
Leading Experts
Patients receive culturally sensitive treatment from a diverse team of professionals who represent all sectors of Israeli society. When needed and possible, treatment can be provided via video calls.
The center employs specialists in rehabilitation, gynecology, urology, psychiatry, psychology, family medicine, pelvic floor physiotherapy, clinical social work, art and movement therapy, complementary medicine, nursing, and more. They work together to provide a personalized. response to the full spectrum of issues related to sexual dysfunction.
Research and academic activity
The staff carry out research studies and train the next generation of sexual rehabilitation professionls. Israeli Society for Sex Therapy (ISST) recognizes the center's training program for specialization in sexual rehabilitation.
Dr. Cobi Reisman – a urologist, certified sex therapist, and former president of the European Society for Sexual Medicine (ESSM) – is the center's chief instructor.
contact
Center for Sexual Health: 054-8908272 (WhatsApp)
Reuth Information Center: 03-5081000 or [email protected]
Arrangement with
Provides full medical sponsorship for all national Paralympic swimmers
Location map

Private car

Bus lines
2, 7, 15, 16, 31, 34, 35, 37, 46, 52, 54, 59, 104, 452, 475, 717

a train
Tel Aviv -"HaHagana" Train Station, within walking distance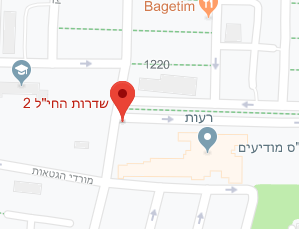 Contact To Reuth Rehabilitation Hospital
Subscribe to the newsletter