The Continuum of Care Unit
Bella Germay
Director of the Continuum of Care Unit
The Continuum of Care Unit at Reuth TLV Rehabilitation Hospital was founded in 2006 with the objective of providing a service that will ensure maintaining a continuum of care between the hospital and the community by means of treatment that supports the patients and their families in the acclimatization process after hospitalization, and to prevent withdrawal in the patient's condition.
Patients
The service is designed for patients who pursuant to the assessment of the social work and the multidisciplinary team will find it difficult to implement the discharge recommendations due to personal resources and/or low familial resources vis-à-vis the complexity of their medical condition.
Treatments
The treatment provided by the Unit to patients includes consultation, support and mediation in regard to realization of rights.
Focussed consultation for solution to problems which enable implementation of the discharge recommendations
Support and empowerment of the patient and his family.
Consultation and mediation in regard to realization of rights vis-à-vis the HMOs, National Insurance, welfare services, invalid nursing companies, including, when necessary, a direct approach to services when the patient is unable to receive the service that he requires.
Assistance the patients in the continued frame, institutional arrangements, recommendations for continued treatment or ambulatory treatment, assistance with a request for ambulatory care.
How is the service provided?
The decision for receipt of the service is carried out pursuant to a recommendation by the multidisciplinary team in the department and/or the social workers
Towards the end of the hospitalization the Unit's social worker meets the patient and his family for an introductory conversation, explanation about the service and coordination of expectations.
After the patient's return home contact is made with him and his family every week by means of telephone calls for a period of up to 4 months pursuant to need.
The program is provided as a contribution to the community without charge to the patient and his family.
Arrangement with
Provides full medical sponsorship for all national Paralympic swimmers
Location map

Private car

Bus lines
2, 7, 15, 16, 31, 34, 35, 37, 46, 52, 54, 59, 104, 452, 475, 717

a train
Tel Aviv -"HaHagana" Train Station, within walking distance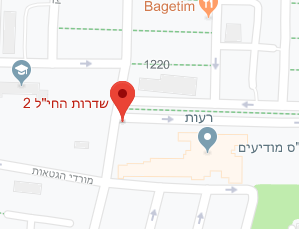 Contact To Reuth Rehabilitation Hospital
Subscribe to the newsletter