The Head Injuries Rehabilitation Ward
Dr. Dana Gefen Doron
Director of the Head Injuries Rehabilitation Ward
The Head Injuries Rehabilitation Ward in the Reuth TLV Rehabilitation Hospital is one of the leaders in Israel in the field of treatment and rehabilitation of people with severe brain injuries. The ward is highly professional and makes use of various technologies including medications for improvement of the state of consciousness.
Patients
The Head Injuries Rehabilitation Ward is designed for people following brain injuries and with poor consciousness for various reasons: trauma, lack of oxygen (drowning, cardiac arrest, suffocation and so forth) and other injuries. The patients arrive at the ward from general hospitals closely following their recovery and the stabilization of their condition after the injury. Some of them are discharged at the conclusion of the rehabilitation treatment in a better functional condition and some of them remain in the Head Injuries Rehabilitation Ward for prolonged periods.
Treatments
The brain injured hospitalized in the ward receive an advanced and multidisciplinary treatment approach, which integrates dedicated nursing and medical treatment, 24/7, with rehabilitation the objective of which is to return to the patient the majority of the abilities that he lost following the injury.
Follow up clinic
The follow up clinic for brain injuries is operated by the Director of the Division and is designed for patients who have been treated within various frameworks, who are suffering from functional deficiencies following the brain injury.
Research and academic activity
Studies are carried out in the Head Injuries Rehabilitation Ward on issues relating to patients in a vegetative state such as: use of equipment which reduces infections in patients, review of the standpoint of the family members caring for the patient, pain assessment and more.
Team
The team on the ward knows each patient well and responds immediately to the slightest signs of distress. The physicians and nursing staff – all of whom are professional with extensive experience in the field – do their utmost to alleviate the suffering of the patients and to maintain human dignity at all times.
The multidisciplinary paramedical team provides the patients with rehabilitation treatments that advance their cognitive and motor abilities and improve their wellbeing and quality of life. These treatments include physiotherapy, occupational therapy, speech therapy, music therapy, therapy with the aid of animals and more.
The families of the patients on the Head Injuries Ward receive the support and empathy of the medical and nursing staff, and the professional support of the ward's social worker.
Related articles
Arrangement with
Location map

Private car

Bus lines
2, 7, 15, 16, 31, 34, 35, 37, 46, 52, 54, 59, 104, 452, 475, 717

a train
Tel Aviv -"HaHagana" Train Station, within walking distance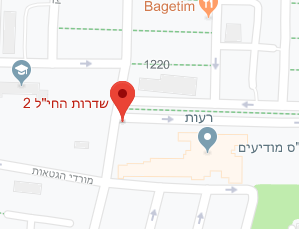 Contact To Reuth Rehabilitation Hospital
Subscribe to the newsletter