The Occupational Therapy Unit
Hana Karpin
Director of The Occupational Therapy Unit
Occupational therapy is one of the health professions the objective of which is to help individuals who are experiencing cognitive, motor, sensory or emotional difficulties to live independent lives as far as possible within the framework of their homes, families and socially.
The main role of the occupational therapists is to help the patient return to his important activities and to occupational fields that are significant for him, and to promote his ability to function independently both during his basic daily activities such as washing, dressing and eating, and the more complex activities of managing money, leisure time and household management.
The principal objective of occupational therapy is to enable the patient to take an active part in daily life as a basis for his health, well-being and quality of life.
Patients
In the Occupational Therapy Unit in the Reuth Rehabilitation Hospital Tel Aviv treatments are given to individuals who are hospitalized in various wards: rehabilitation (young people, middle age, geriatric), complex nursing and ventilated patients; for patients treated under ambulatory care and outpatients and for those making personal requests. All the treatments in occupational therapy are customized personally for the patient, for the occupations that are important for him, within the framework of his life and his previous functions.
Treatments
The treatments given within the framework of the Occupational Therapy Unit include:
Cognitive rehabilitation: the objective of the treatment is to improve the patient's cognitive ability in order to enable his active and significant participation in daily life.
Neurological rehabilitation: the objective of the treatment is to achieve both motor improvement and optimal independence in daily basic functions (BADL) such as eating, dressing and washing and instrumental functions (IADL) such as management of money and meal preparation.
Rehabilitation for spinal cord injuries: The treatment focuses on improvement of the functioning of post-surgical patients and various spinal injuries in order to enable them optimal independence pursuant to the level of the injury.
Orthopaedic rehabilitation: the objective of the treatment is to improve ranges of movement and strength, to reduce pain and to enable use of limbs in daily functioning.
Geriatric rehabilitation: promotion of the functional ability of the older person and maintenance of the quality of life following an orthopaedic or neurological injury, or following a decrease in function due to age-related diseases.
Rehabilitation of the hand and burns: within the framework of the treatments static and dynamic braces are adapted for the patient, according to his condition. If necessary use is made of pressure dressings and silicon sheets to provide optimal treatment.
Treatment for children: treatment designed for children of a wide range of ages who are hospitalized for a prolonged time period in complex nursing situations and for ventilated children. The treatments are customized for each child: individual treatment to achieve developmental milestones, group treatments, customization of braces, eating groups and sensory stimuli.
Treatment for patients with low arousal: advanced therapeutic intervention in comprehensive assessment the objective of which is identification of responses that shall enable communication. These responses are any voluntary bodily movement which the therapist can use to mark a positive or negative response, for example. Additional sensory stimuli are given (touch, smell) to encourage responses.
Rehabilitation for complex nursing patients and breathing: designed for  nursing patients who contend with severe motor and/or cognitive restrictions. During the treatment customized for each patient personally which include recreational activities, individually or in a group, the objective of which is to improve his motor and cognitive ability.
Rehabilitation for chronic pain: Reuth Rehabilitation Hospital Tel Aviv is a national center for treatment of Complex Regional Pain Syndrome and pain syndromes. The treatment is carried out after comprehensive assessment the objective of which is to identify factors that are delaying performance such as restrictions of movement and force, sensitivity to touch which does not allow functioning, concern about movement and more. The treatment methods are diverse however all of them have one principal objective which is to encourage participation in daily life.
Research and academic activities
The Unit is recognized as a training center for students of occupational therapy from all the universities and colleges in Israel. The department team participates in many studies in the fields of therapeutic focus.
Arrangement with
Provides full medical sponsorship for all national Paralympic swimmers
Location map
Private car
Bus lines
7, 11, 15, 16, 30, 31, 32, 33, 34, 35, 36, 37, 38, 39, 43, 52, 53, 58.
a train
Tel Aviv -"HaHagana" Train Station, within walking distance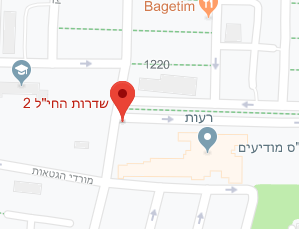 Contact To Reuth Rehabilitation Hospital
Subscribe to the newsletter