The Respiratory Rehabilitation Division
Dr. Maya Elyashiv
Director of the Respiratory Rehabilitation Division
The respiratory wards in the Reuth TLV Rehabilitation Hospital are the first and the largest of their kind in Israel, whereby the students of respiratory rehabilitation are currently placed in all the hospitals as part of the hospital's permanent staff. The Respiratory Rehabilitation Division treats patients requiring respiratory support by means of a respirator for a prolonged period, and has recorded extraordinary achievements in weaning from ventilation.
The chief objective of the division is to rehabilitate the respiratory ability of the patients, to enable them to breathe independently and to wean them from dependence on the respirator.
Patients
The respiratory rehabilitation wards treat patients who cannot breathe independently and are dependent on a ventilator for various reasons, including:
Chronic pulmonary diseases
Heart diseases
Muscular degenerative diseases such as ALS
Central nervous system diseases
Obesity or those who are significant underweight
Accidents and traumatic injuries
The patients are monitored by sophisticated equipment and electronic control systems, 24/7.
Treatments
The treatments include advanced ventilation methods, for respiratory rehabilitation and weaning from ventilation.
Bi-level Positive Airway Pressure (BPAP) – an advanced respirator based on two different levels of pressure, for aspiration and exhalation, and that works in two different states: a spontaneous state that responds to the independent breaths of the patient and an automatic state for ventilation of patients who cannot breathe independently at all.
Respiratory rehabilitation – multidisciplinary treatment that includes: exercises for strengthening the respiratory muscles, respiratory and general physiotherapy, customized physical activity, nutritional treatment, occupational therapy, respiratory support and weaning from artificial ventilation.
Weaning from ventilation – for patients who are found to be suitable for weaning from ventilation a personal weaning program is customized. The weaning process is characterized by close supervision and great patience, with the objective of increasing the chances of success.
The team
There is a multi-professional team working together in the wards in close collaboration including:
Physicians
Nurses with knowledge in treating a ventilated patient and who specialize in respiratory rehabilitation and weaning from ventilation
Paramedical professionals who specialize in physiotherapy, occupational therapy, communication disorders and nutrition.
Related articles
Arrangement with
Location map

Private car

Bus lines
2, 7, 15, 16, 31, 34, 35, 37, 46, 52, 54, 59, 104, 452, 475, 717

a train
Tel Aviv -"HaHagana" Train Station, within walking distance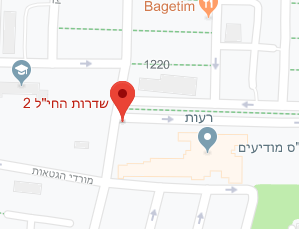 Contact To Reuth Rehabilitation Hospital
Subscribe to the newsletter