The Therapeutic Occupation Unit
Nurit Erez
Director of The Therapeutic Occupation Unit
The Therapeutic Occupation Unit at the Reuth Rehabilitation Hospital Tel Aviv is part of the Occupational Therapy Unit. The Therapeutic Occupation Unit focuses on activating the patients and aspires to create for each patient a top quality recreational environment customized personally to his needs, his abilities and his limitations. The objective of the activity is to maintain and establish motor, social and emotional functions, which contribute to the wellbeing of the patients and the quality of their life.
Patients
The Therapeutic Occupation Unit provides a designated solution to all those hospitalized in the various wards in the hospital (complex nursing, rehabilitation, respiratory rehabilitation, ambulatory care).
For patients hospitalized in the rehabilitation wards the Therapeutic Occupation Unit serves as a stimulus at times of crisis. Here they can acquire new skills and hobbies, which will also serve them after they are discharged from hospital and return to their homes.
For the patients' families the Therapeutic Occupation hall serves as a warm and family-oriented place in which they can observe their dear ones in activities and also participate.
Treatments
The Unit offers patients a wide variety of activities such as: painting, sculpture, embroidery, cooking and baking, music, jewellery making, computers and current affairs. Every patient can choose the activities that he likes and the team customizes for him methods and tools that enable him to engage in the field that he has chosen. Furthermore, the Unit holds special activities in preparation for the Jewish holidays, and operates a unique club for the female members of the patients' families which constitutes a meeting place for emotional support.
The therapeutic occupation activities are carried out in the various wards individually and/or in groups. In addition there are activities in the therapeutic occupation hall which are open to all the hospital patients.
The team
Nurit erez – the Unit Director.
10 female employees, graduates of therapeutic occupation training on behalf of the Eshel organization, approved by the Ministry of Health. The team members are updated on an ongoing basis on innovations in the field of therapeutic occupation and participate in conventions, seminar days and professional training.
Arrangement with
Provides full medical sponsorship for all national Paralympic swimmers
Location map
Private car
Bus lines
7, 11, 15, 16, 30, 31, 32, 33, 34, 35, 36, 37, 38, 39, 43, 52, 53, 58.
a train
Tel Aviv -"HaHagana" Train Station, within walking distance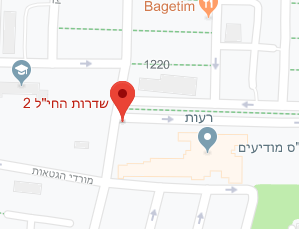 Contact To Reuth Rehabilitation Hospital
Subscribe to the newsletter