Day rehabilitation department
Dr. Oren Schwartz
Day rehabilitation department manager
The Day  Rehabilitation department at the Reuth TLV Rehabilitation Hospital  enables those receiving rehabilitation to receive combined and concentrated treatment, similar to the treatment provided during hospitalization, however to return to their homes on the conclusion of the treatment. Thus, they receive the optimal rehabilitation treatment customized for their condition, and simultaneously they integrate in their natural environment and enjoy optimal independence and as normal a daily routine as possible.
Patients
The department treats people with functional defects on various levels and diverse types, as a result of illness or injury such as: CVA, spinal injuries, illnesses affecting the central or peripheral nervous system, head injuries, chronic pain, Complex Regional Pain Syndrome (CRPS), complex orthopaedic problems and more.
Some of the patients have undergone rehabilitation and who have been discharged from the Reuth TLV Rehabilitation Hospital and are continuing the rehabilitation process within an ambulatory framework. Others come from the community directly for ambulatory care, pursuant to their situation.
Treatments
The Day Rehabilitation department operates using the multidisciplinary rehabilitation approach and provides each patient with a variety of professional treatments, according to his needs:
Nursing treatment – follow up of background illnesses, training, dressings and other treatments.
Physiotherapy – to improve mobility, endurance, movement ranges and coordination.
Occupational therapy – to promote daily skills at home and work, leisure functions, cognitive and motor skills.
Communications disorders treatment – to improve linguistic and speech disorders and to treat swallowing problems.
Rehabilitation psychology – consultation, therapy, support and guidance, which help the patient and his family to acclimatize to the new situation, and also to grow from it.
Therapeutic garden – gardening in an environment suiting the abilities of the patients, to calm the mind, to improve the quality of life and to promote motor functions.
Art therapy – to improve the quality of life by means of self expression, and to strengthen motor abilities.
Biofeedback – to relax and recover by means of control of physiological reactions of the body.
Lymphedema – to reduce swelling by means of lymphatic massage, pressure dressings, exercises and devices.
Social work – support during treatment and guidance to services in the community.
Support groups – a social support meeting with people coping with similar problems.
Therapeutic occupation – a good recreational environment suitable for the abilities and needs of the patients.
Complementary medicine – treatment by Chinese medicine, acupuncture, reflexology, Tui Na, Shiatsu and a range of massages.
Guided imagery – for development of constructive positive thinking and creative thinking which help in self treatment of the body and mind.
The Nutrition and Diet Unit – the unit's team holds individual meetings when required, for treatment of the nutritional ramifications of the medical situation and the side effects of treatment with pain killers.
The team
The multidisciplinary team is comprised of leading professionals in the medical and health fields: senior rehabilitation physicians, nurses, physiotherapists, occupational therapists, speech therapists, social workers, dieticians, rehabilitation psychologists and neuropsychologists. The team members work is close collaboration and convene regularly in order to assess achievements, determine new targets and coordinate positions. 
Arrangement with
Location map

Private car

Bus lines
2, 7, 15, 16, 31, 34, 35, 37, 46, 52, 54, 59, 104, 452, 475, 717

a train
Tel Aviv -"HaHagana" Train Station, within walking distance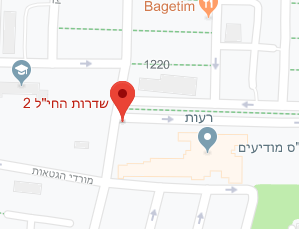 Contact To Reuth Rehabilitation Hospital
Subscribe to the newsletter