The Paediatric Ward
Dr. Gidon Benyamin
Director of The Paediatric Ward
The Paediatric Ward at Reuth TLV Rehabilitation Hospital works to provide an optimal quality of life and maximum rehabilitation for children who are unable to be in their homes due to an illness or severe injury. The ward is a pioneer in its field and the only one of its type in Israel. Many of the patients are hospitalized for prolonged periods of time.
Patients
The ward treats babies, infants and children from the age of one month and up to 18 years who suffer from a range of illnesses and injuries, including:
Genetic, neurological and chronic illnesses
Congenital defects
Head injuries following accidents and terror attacks
Brain injuries following drowning
The majority of the patients are in nursing status,  they are not fully conscious and their cognitive and physical abilities are poor. The infants are hospitalized in respiratory intensive care and after they grow the children are moved to various wards according to their ages.
Treatments
The Paediatric Ward is divided into two units:
Complex nursing
Intensive care. The majority of the patients  hospitalized in intensive care require artificial respiration.
Many of the children hospitalized in the two units require special nutrition and customized treatment with medications along time. Further to the top quality medical treatment the children receive a wide range of paramedical treatments such as physiotherapy and occupational therapy, alongside quality of life treatments, which include music and art therapy.
Once a year the children, whose condition enables such, travel together with their parents to a park designated for children with physical disabilities. The children's parents and their families receive support and guidance by the professional team throughout the period of their hospitalization.
The team
The team in the Paediatric Ward is very devoted to the children and their work with them and does everything that it can to improve the quality of their life. The ward is decorated with happy and colourful pictures and the ongoing activity includes songs, stories, birthdays and festivals, which warm the hearts of the most disabled of children. The ward's team includes physicians and nursing staff specializing in the treatment of injured children and they are supported by an active and dedicated circle of volunteers.
Arrangement with
Location map

Private car

Bus lines
2, 7, 15, 16, 31, 34, 35, 37, 46, 52, 54, 59, 104, 452, 475, 717

a train
Tel Aviv -"HaHagana" Train Station, within walking distance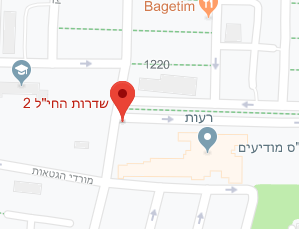 Contact To Reuth Rehabilitation Hospital
Subscribe to the newsletter