The Pain Institute
Dr. Alon Reuveni
Director of pain Institute
Pain affects many areas in human life and could lead to a severe functional disorder. Our outlook espouses multi-professional treatment of the illness, the pain and above all the individual. Every patient receives a personal program which integrates medications and  advanced technological treatments alongside physiotherapy, occupational therapy, complementary medicine, art therapy and psychological support, when required.
Patients
The Pain Clinic treatment is provided to men and women suffering from severe and chronic pain in various situations:
Neck, face, head, back pain.
Oncology based pain.
Joint pain.
Neuropathic pain.
Skeletal-muscular pain.
Shingles.
Neurological pain.
Diabetes based nerve damage.
"Phantom" pain following amputation.
Arthritis.
Pain and injuries to the skeletal-muscular system.
CRPS.
** The patients are offered two treatment frameworks: at the Pain Institute and at the Day rehabilitation department . It is possible to combine the two frameworks, pursuant to medical opinion.
Treatments
The Pain institute at Reuth Rehabilitation Hospital Tel Aviv offers a range of treatments using advanced technological methods. The treatment includes developing a program that takes into consideration the mental, psychological, functional and social aspects. This concept has been proven to bring the best and most successful treatments.
The treatments take place five days a week, throughout the mornings and afternoons. The patients have a multi-professional team of physicians and therapists, specialists in pain alleviation medicine and rehabilitation medicine.
The treatments in the Pain Institute:
Injections into the spine and joints under a scan.
Peripheral nerve blocks under a scan.
Sympathetic nerve blocks under a scan.
Radio wave treatment under a scan ( radiofrequency).
Nerve blocks for alleviation of pain.
Injections into joints and the spine under a scan.
Epidural injections.
Treatment with medications.
Treatments in Day Rehabilitation department
Physiotherapy.
Occupational therapy.
Psychological support for the patient and his family.
Cognitive-behavioural therapy (CBT).
Electrotherapy, ultrasound and laser treatment.
Biofeedback.
Complementary rehabilitation medicine.
Support groups.
The Pain Clinic – unique treatment for CRPS
The Complex Regional Pain Syndrome (CRPS) is a unique field of treatment in the institute, which serves in this matter as a national diagnostic center for treatment and research.
Correct and early diagnosis is critical for the success of the treatment. When the diagnosis is delayed and the patient does not receive suitable treatment he could suffer from a significant deterioration, which leads to severe functional disorders and even indications of depression.
The clinic staff has developed an effective method for quick and accurate diagnosis whereby the treatment relates to all the aspects of the syndrome – the pain itself and range of disorders caused by it: motor, sensory, autonomous, functional and psycho-social disorders.
Research and academic activity
The Pain institute and the Day Rehabilitation department act to encourage research and makes available for the researchers advanced and innovative equipment. Original and innovative studies are carried out there and the results help in development of methods that improve treatment. Furthermore, the Pain institute and the Day Rehabilitation department serve as centers for practical training and preparation of final theses for academic degrees and for students from institutes of higher learning.
Arrangement with
Provides full medical sponsorship for all national Paralympic swimmers
Location map
Private car
Bus lines
7, 11, 15, 16, 30, 31, 32, 33, 34, 35, 36, 37, 38, 39, 43, 52, 53, 58.
a train
Tel Aviv -"HaHagana" Train Station, within walking distance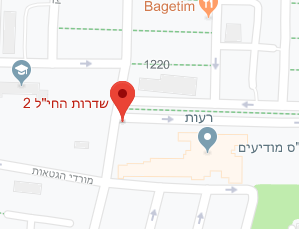 Contact To Reuth Rehabilitation Hospital
Subscribe to the newsletter