The Physiotherapy Unit
Naama Keshet
Director of the Physiotherapy Unit
The Physiotherapy Unit at Reuth TLV Rehabilitation Hospital is one of the largest and most advanced of its kind in Israel. The unit offers professional treatment of a high standard the objective of which is to rehabilitate movement ability after various injuries, to provide the patient with optimal functional independence pursuant to his condition and to prevent functional deterioration which could occur over time. Every treatment is customized personally according to the requirements and needs of the patient.
Patients
The Physiotherapy Unit provides rehabilitation and long term preventive treatment to patients and the injured suffering from a wide variety of injuries.
Neurological rehabilitation: for patients suffering from damage to the central nervous system as a result of CVA, head injury or systemic disease such as Parkinson's, multiple sclerosis and Guillain–Barré syndrome, and for patients suffering from injury to the peripheral nervous system.
Orthopaedic rehabilitation: after fractures in limbs or in the spine, and following joint replacement surgeries, amputations and more.
Complex rehabilitation: for patients who suffer from multisystem injuries due to road or work accidents, terror attacks and so forth.
General rehabilitation: for sufferers with systemic diseases which cause a sharp decrease in functioning such as pneumonia, enteritis, heart attack, bypass surgery, kidney disease requiring dialysis and more.
Ambulatory rehabilitation:  for patients who have concluded the rehabilitation process within the framework of hospitalization and who require continued treatment and for those referred by other frameworks in the community (IDF, HMOs and the Ministry of Health). In this field the unique expertise of Reuth Rehabilitation Hospital Tel Aviv is implemented in the treatment of chronic pain and Complex Regional Pain Syndrome (CRPS).
Rehabilitation and treatment of ventilated patients:
Respiratory rehabilitation for COPD patients, emphysema and more.
Rehabilitation of functioning and improvement of endurance of patients with pulmonary disease
Treatment for weaning off ventilation machines
Treatments for maintaining a normal respiratory condition for chronic patients in various stages of consciousness.
Respiratory treatment for ventilated patients – adults and children.
Long term rehabilitation and treatment:
Long term rehabilitation for young people
Long term treatment for chronic nursing patients
Treatment for nursing patients, young and adult, suffering from degenerative diseases and in various levels of consciousness.
Developmental treatment for babies and children with chronic diseases and injuries.
Treatments
The most advanced technologies in rehabilitation treatment in Israel are concentrated under one roof in the Physiotherapy Unit:
AposTherapy – rehabilitation of the control of nerves-muscles after CVA
Meditouch – computerized ergonomic device based on feedback, for improvement of joint functions, designed for patients suffering from orthopaedic and neurological problems.
Bioness – a technological system based on wireless transmission which creates an electric stimulus for activating nerves-muscles to lift the foot at appropriate timing. Designed for individuals suffering from drop foot following CVA, head injuries and cerebral palsy.
Within the framework of the treatment in the Technologies Centre for rehabilitation an initial assessment shall be carried out for the purpose of customizing the treatment personally and to determine a personal treatment program.
Related articles
Arrangement with
Location map

Private car

Bus lines
2, 7, 15, 16, 31, 34, 35, 37, 46, 52, 54, 59, 104, 452, 475, 717

a train
Tel Aviv -"HaHagana" Train Station, within walking distance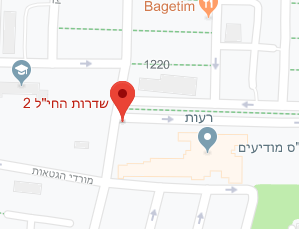 Contact To Reuth Rehabilitation Hospital
Subscribe to the newsletter