Educational Framework
Ilona Pinto
Director of the Educational Framework
The Reuth TLV Rehabilitation Hospital is one of only two hospitals in Israel (together with Herzog in Jerusalem) which treats children in complex situations that obligate medical treatment 24/7.
From 2010 the hospital has been operating an educational framework (a school) which has the objective, alongside the multi-professional medical treatment, of improving the quality of life for the children and their families.
The educational framework includes 7 teachers, 7 therapists from the fields of occupational therapy, speech therapy, physiotherapy and social work, and music and animal therapists.
All the children receive daily activities, pursuant to their medical condition and their abilities. The activity is very diverse and each child receives in practice a customized program for personal study. The activity also includes fun days and designated activity for holidays, together with the families.
Furthermore the school also helps adolescents who are hospitalized in the Young Rehabilitation Ward with preparation for matriculation and in reducing the study disparities during hospitalization.
The uniqueness of the educational framework is its activity within the rehabilitation hospital and being a leader in the rehabilitation concept – to help children as much as possible in fulfilling their rehabilitation potential from a functional aspect pursuant to their personal situation.
Arrangement with
Provides full medical sponsorship for all national Paralympic swimmers
Location map

Private car

Bus lines
2, 7, 15, 16, 31, 34, 35, 37, 46, 52, 54, 59, 104, 452, 475, 717

a train
Tel Aviv -"HaHagana" Train Station, within walking distance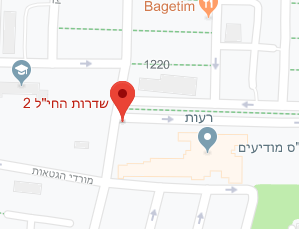 Contact To Reuth Rehabilitation Hospital
Subscribe to the newsletter