The Psychological Rehabilitation Division
Amir Zendakovich
Director of The Psychological Rehabilitation Division and The Institute for Treatment of Eating Disorders
The Psychological Rehabilitation Division at Reuth TLV Rehabilitation Hospital provides psychological treatment for people coping with significant physical harm, which causes a great crisis and a feeling of severe loss. This is a supporting psychological configuration that places the emphasis on the rehabilitation process for the patients, accompanies the patients during the rehabilitation process and helps them with the emotional acclimatization of their new situation, in parallel to the medical rehabilitation process.
Patients
The Division supports all the hospital units and treats a wide range of patients who are undergoing rehabilitation processes and are coping with a wide range of medical conditions and injuries, including:
Orthopaedic and neurological injuries of various levels of severity
Injuries due to road accidents, traumas or surgery
Head injuries and traumas
Degenerative diseases (multiple sclerosis and more)
Pain disorders (fibromyalgia, CRPS and so forth)
Any physical injury that causes an emotional upheaval which requires a process of rehabilitation
The Psychological Rehabilitation Division surrounds the patients with the type of treatment that he requires and provides him with continual support.
Treatments
In the Division, clinic-based treatments are provided including:
Diagnostic and assessment processes
Neuropsychological diagnosis
Psychological therapy
The objective of the comprehensive diagnosis is to customize for each patients a designated treatment program within the framework of which a suitable psychologist shall be allocated pursuant to her field of specialism and pursuant to the patient's needs.
The Division provides professional and focussed individual psychological therapy which places the emphasis on the recovery processes from the physical injury and the acclimatization to the restrictions that could follow. If necessary the therapists also help the family members of those being rehabilitated, who are also coping with the changes.
The therapeutic approach is integrative and includes a systemic approach, family, psycho-dynamic and cognitive-behavioural interventions, support therapy and relaxation techniques. The objective of the treatment is to increase the resources and expand the ability of the patients to cope with the injury and its ramifications.
Research and academic activity
The Reuth TLV Rehabilitation Hospital is recognized by the Professional Psychological Rehabilitation Committee in the Ministry of Health as a training and specialism unit for psychology students in the field of psychological rehabilitation. The Division promotes research in this field and helps students of higher learning from various institutions: the Hebrew University in Jerusalem, Bar Ilan University, Ariel University and the Tel Aviv-Jaffa Academic College.
The team
The team is comprised of psychologists with specialism in the field of psychological rehabilitation and intern psychologists and practicum students from the various institutions of higher learning.
Arrangement with
Provides full medical sponsorship for all national Paralympic swimmers
Location map

Private car

Bus lines
2, 7, 15, 16, 31, 34, 35, 37, 46, 52, 54, 59, 104, 452, 475, 717

a train
Tel Aviv -"HaHagana" Train Station, within walking distance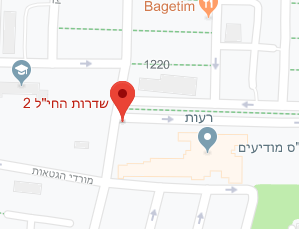 Contact To Reuth Rehabilitation Hospital
Subscribe to the newsletter