The Complementary Medicine Rehabilitation Clinic
Sharon Benraf Moses
Director of The Complementary Medicine Rehabilitation unit
The Reuth TLV Rehabilitation Hospital offers a range of professional treatments in the field of complementary medicine rehabilitation under medical supervision and follow up.
The pronounced advantage of the Complementary Medicine Rehabilitation Clinic at the hospital is the unique expertise in rehabilitation – an expertise which does not exist in other places in Israel. Every year the clinic records the highest success rates and it encompasses diverse methods.
The principal objective of complementary medicine rehabilitation is to improve the quality of life and provide a complementary envelope for medical treatment in various fields.
Problems for which the treatments could help are:
Support during neurological rehabilitation and after CVA
Support during orthopaedic rehabilitation
Treatment of pain
Reduction of stress, pressure, anxiety and depression
Treatment of sleep disorders
Reduction of oedemas and blood circulation
Improvement of the digestive system
Strengthening of the immune system
Help with respiratory problems
Strengthening of stability and improvement of self image
Prevention, maintenance and improvement of the quality of life
Hypertension, diabetes, hormonal and gynaecological problems.
Patients
The Unit offers a range of complementary treatments for those hospitalized in Reuth, their families and patients in the community.
The treatments are given within the framework of arrangements with the various insurance companies or privately.
Every patient is entitled to a pre-treatment counseling session at no cost. After that, he will be assigned a specific treatment plan appropriate to his condition.
Treatments
Complementary medicine includes a large number of therapeutic approaches.
Within the framework of the clinic a range of treatments are offered including:
Chinese medicine (acupuncture and Tui Na)
Shiatsu
Reflexology
Massages
Homeopathy
The team
The clinic has a wide range of professionals.
Each patient receives treatment customized for him and a designated and unique treatment program is developed for him. The therapists work in full cooperation with the medical and paramedical teams of the Reuth Rehabilitation Hospital and constitute a part of the multidisciplinary and comprehensive treatment system which is essential for the success of the rehabilitation process.
All the therapists in the Complementary Medicine Rehabilitation Unit are certified therapists, who have undergone lengthy and appropriate training in recognized study frameworks and they have extensive experience in the field.
contact
The clinic provides treatments Sunday-Thursday from 8:00 to 20:00 and Friday from 8:00 to 12:00
Contact by phone:
Until 12:00 –  073-2701602
After 12:00 – through Kol Reuth: 03-5081000
Arrangement with
Location map

Private car

Bus lines
2, 7, 15, 16, 31, 34, 35, 37, 46, 52, 54, 59, 104, 452, 475, 717

a train
Tel Aviv -"HaHagana" Train Station, within walking distance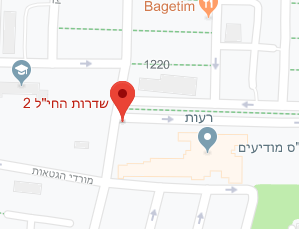 Contact To Reuth Rehabilitation Hospital
Subscribe to the newsletter