The Geriatric and Psycho-Geriatric Clinic
Dr. Yekaterina Slutsky
Director of the Geriatric Rehabilitation Division
The Geriatric and Psycho-Geriatric Clinic helps seniors suffering due to their age with a decrease in functionality and their health and/or cognitive situation, with the objective of enabling them and their families an optimal quality of life.
The clinic treats older people with a range of problems relating to old age: multi-systemic medical problems, weakness, vertigo, urination disorders, incontinence, depression, sleep disorders, repetitive falling, dementia, decreased functioning, taking multiple medications simultaneously and more.
Geriatrics: the treatment at the clinic is multi-professional and customized for each patient pursuant to his needs and condition. Every patient coming to the clinic undergoes comprehensive and thorough assessment, which constitutes a basis for a personal treatment program.
The range of treatments offered in the clinic include: geriatric medicine, rehabilitation medicine, urology, neurology, psychiatry, occupational therapy, treatment of communication disorders and more
Furthermore the clinic has developed unique treatment programs – for disorders with balance and prevention of falling, for decrease in functionality and for memory disorders.
Psycho-geriatrics: the clinic diagnoses and treats the elderly with behavioural problems and a decrease in cognition. The clinic's team supports and trains the family, helps in decision making in regard to the type of assistance required, helps to find suitable institutions in case of need and more.
The multidisciplinary team includes: geriatric physicians, psycho-geriatric physicians, rehabilitation physicians, social workers, occupational therapists, physiotherapists, speech therapist, nurses, a urologist and a neurologist.
Arrangement with
Location map

Private car

Bus lines
2, 7, 15, 16, 31, 34, 35, 37, 46, 52, 54, 59, 104, 452, 475, 717

a train
Tel Aviv -"HaHagana" Train Station, within walking distance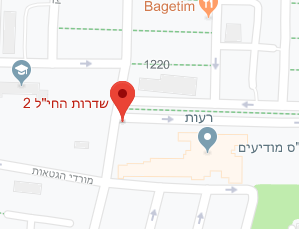 Contact To Reuth Rehabilitation Hospital
Subscribe to the newsletter